I have written a lot about working from home and all of us who are interested in generating some extra income or looking to establish something of their own are always on a look out for websites where they can get some good projects / jobs to work upon. Welcome to world of freelancing friends. If you are looking for some popular websites in India where you can find some good freelancing opportunities, you are right place. Today I list down the most popular freelancing websites in India.
Apart from these Indian websites there are many global websites where you can register as well and will be able to bid for projects globally and this then gives you a wonderful opportunity to showcause your talent to the whole world. Let us look at what are these.
Popular Freelancing websites in India
Below is out list of top freelancing websites operating out of India which you should be registered on to further your freelancing career.
WorkNHire
One of the best freelancing websites in India. This website has a simple but very easy to use interface. You can signup as both, some on looking for projects or some one who is looking to hire freelancers. There are a lot of projects posted on this website as well as a lot of freelances are available. It is a full fledged freelancing website for any area you are looking for contractors.
The site is open for registration and does not charge any money. However as a free member you can bid only on a fix number of projects.
Freelancer.in
This is one the global websites with India operations. This is again one of the most popular websites in India. The interface is really cool and catchy. You get not only a IT projects but non IT projects as well on this website like Architecture design, Interior design etc.
The integrated payment gateway is also good ans secure. You can track the progress of your project. Registration is free of cost. But as premium members you get many benefits
Youth4Work
I like this a lot. As employers if you want to hire freelancers, you want to make sure that the freelancers you are hiring is of good quality. And how does this websites helps with that? Youth4Work conducts skill test for all its freelancers and that skill test is posted along with your profile and employers hiring know what quality they are going to get.
This web site is also free to register.
FreelanceIndian – Oldest freelancing website
This is one of the oldest freelancing websites in India, started way back in 2002, it is still one of the popular ones. Only thing which I found is that the interface does not look that modern. But it has lot of categories in which you can hire freelancers.
There are 3 types of membership options on this website
Free
Premium
Premium Plus (Benefits as listed below from freelanceindia webiste, you can check the website for benefits and limitationa of other membership types at this link ( http://freelanceindia.com/premiummembership.asp#p )

You will be alloted a domain of your choice subject to availabilty(e.g abc.freelanceindia.com).
The domain allotted to you contains freelanceindia.com imparting high brand value to you.
You will be permitted to use this domain on all your business communication(e.g visiting cards, letter heads etc).
This will be a complete webpage of your business.
We will be responsible for hosting and maintaining your webpage.
Your webpage will get high priority listing in important search engines(e.g google, yahoo etc.) as your website pages are part of freelance india.com.However, it is at the discretion of Search Engines.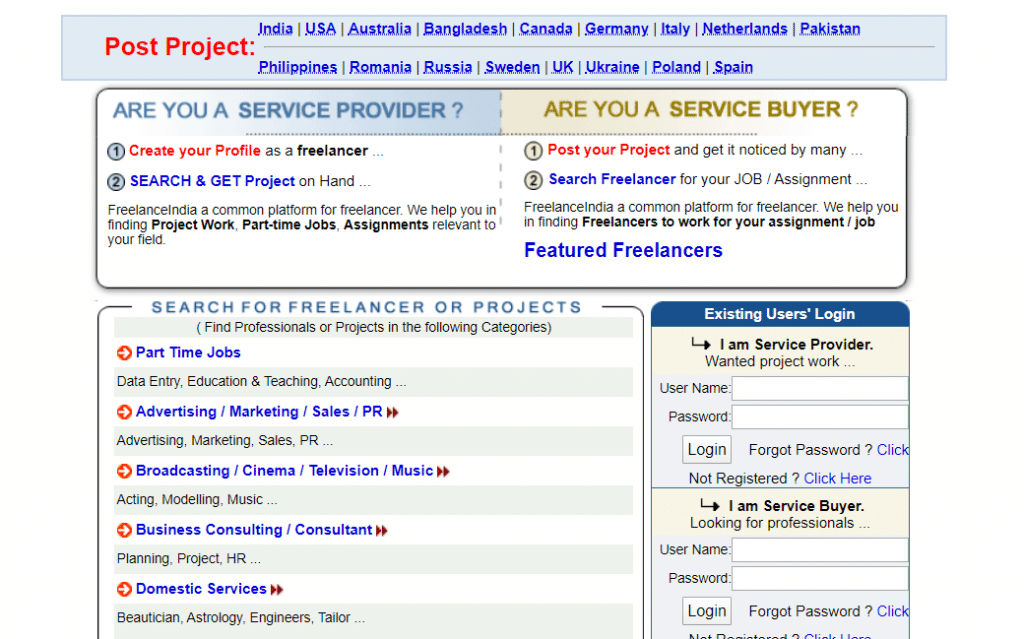 Ilmosys Studio – freelancing website dedicated to design
One of the best freelancing websites for Graphics/Logo design, Website design, Content writing, Copy writing, digital marketing, SEO etc. So this website is dedicated to people in the area of content writing, graphics design etc
You can access the link here: https://studio.ilmosys.com/
Flexiport
This is a relatively new website which offers some promising options. It basically connects project work and freelancers on an outsourcing model. That is felxiport can manage the project end to end. But its not that you always have to use that service, you can do it yourself as well. Also the website has quite a modern interface, blogs and lots of other resources.
You can register for free on this website. There is a free membership or you can take a premium membership as well.
DesignHill – freelancing website dedicated to Graphics design
One more freelancing website dedicated to designers i.e graphics designers. It is worlds no 1 graphics design website. So if you are a graphics designer or website designer and are looking for some freelance projects, you should be on this website.
So what you can do is to design a template and upload it on this website and people buy it from there. Logo's , t-shirt designs, visiting card designs, branding, anything related to design you can find it here.
You also have an option to work directly with clients , take part in design contest etc.
Truelancer
This is another good website with global presence. If you are looking for some good project, you should be registering on this website. They also have an app so that you are not left behind on notifications.
Dream Starts – freelancing websites for startup jobs
http://www.dreamstarts.in/
Statrups can be a good place to work if you are interested in learning a lot. And Dream Starts is one such website. It is a website dedicated to statrup jobs. Though you find full time and partime jobs as well on this website, but you can also apply for freelance jobs. So this is not a true freelancing website, but definitely there are some good freelancing jobs in startup space available here. So do go ahead and register on this website if you are looking to work in startup area.
You may also be interested in Blogging / SEO – Click here
Global Freelancing websites
Now apart from the ones operating out of India, there are many global websites as well where you can register and compete for the projects globally
Upwork
Who does not know about upWork today. It is probably on of the largest market place for projects and freelancers across the world. This is one of the first few websites you should be registering upon if you are looking at competing at global level.
Guru
Guru.com is probably one of the oldest freelancing market place today. It is very trusted and popular market place for US market. You should be registered on this website if you are looking for global project.
Behance – freelance website dedicated to graphics design
Great place for graphics designers. It is same as dedicated websites for graphics designers in India. So if you are a talented graphics designer, you should be in here.
PeoplePerHour
https://www.peopleperhour.com/
A hugely popular freelancing wesbsites for hiring freelancers on a hourly rate.
Fiverr
Fiverr is one of the worlds largest market place for digital services. It works on a unique model, where you create gigs here. So you advertise yourself, like you can do a power point presentation for Rs 500/- or any other work like content writing etc. So do check it out.
---
Conclusion
I hope you did like my list of top websites which you can do freelancing on. Remember there are many others as well, both in India and globally. But the ones which I have listed today are the most popular freelancing websites in India or other ones are the global freelancing websites. So if you are looking at some great freelancing career, you should be some of these. So friends, good luck for your freelancing career! If you have any questions please do write back to me at skumar@indiacareeradvice.com or post your comments in comment box below. Good luck!