Many a times we have situation where we are not able to go out from home for work. The situation can be anything like taking care of kids or medical issues etc. Today with changing times we have jobs which do not require people to come to office. Here are list of top 10 work from home jobs in india which you can try out.
These jobs are quite flexible on nature and you can easily make some where from 10,000 to 1 Lakh a month or may be more depending upon your experience.
What else work from home jobs gives you a lot of flexibility and you can attend to your personal obligations in a much better way.
Top 10
work from home jobs

in india

Below are my list. Check these out!
#1 Become a Medical Transcriptionist – One of the best work from home jobs
Do you have any qualification in one of the allied areas or medical science / biology. This is probably one of the best fields to be in for work from home options.
Even if you are not from a medical / Bio background, this should not stop you from trying this out.
Because the company which hires you does gives you the required training. Knowledge of english is must , that it. If you are experienced then you can earn a good amount of Money. This is on top of our list of top 10 work from home jobs in india!
What does a medical Transcriptionist do?
Medical transcriptionists, listen to voice recordings that physicians and other healthcare workers record. They then convert these into written documents.
As a senior medical transcriptionist, job may also include review and edit of medical documents created using speech recognition technology and other junior level medical transcriptionist .
Home based medical Transcriptionist jobs in India
There are plenty of home based medical Transcriptionist jobs in India. You can search on various job portals for the same example. check out the job posted on one of the most popular portals naukri.com
The companies generally ask all its work from home employees for initial training and certification and then hire them to work from home.
The best way is to search for online training and talk to them . If you like them enroll for a short term training. They may also provide placement assistance.
How much a medical transcriptionist earn?
You can easily earn somewhere from Rs 15000/- per month to Rs 60,000 per month based on experience.
---
#2 Business development manager – work from home job
This is another high paying job you can do full time or part time from home. You just need a very good communication skills and having a degree or certificate in Marketing, Sales or Business development is an advantage and if you have experience in this area you can earn a good money.
What business development managers do?
The primary job of a business development manager is to help companies sell their products and services to their existing clients or new customers. And hence communication is key. You just need a laptop and phone and you are on the job. You may also some times need to go and meet the customers but you can do most part of your work from home.
Many startups today hire work from home BDM's to look for projects on various freelancing websites and contacts those clients to understand their requirements and make proposals.
How much a business development manager earns?
Salary of a BDM in India is approx Rs 40,000 to Rs 60,000 per month and increases based on your experience and qualification. BDM's also have possibility of profit sharing.
---
#3 Become a language translator
What does a language translator do?
In today's globalized world, there is a good need for language translators. For example people who can translate Japanese to English or Russian to English and why is this needed is because lot of international companies are setting up offices in India and they need help.
Also many publishers want their content to be converted from one international language to another.
In India itself today there is lot of content getting converted into different languages and this offers a great opportunity for people who know multiple languages. you get an idea on no. and type of jobs.
Work from home jobs for language translators
There are a lot of work from home jobs in this space. You just need to look at the right place. For example check out below. the screen shot is from Monster.in and Freelancer.in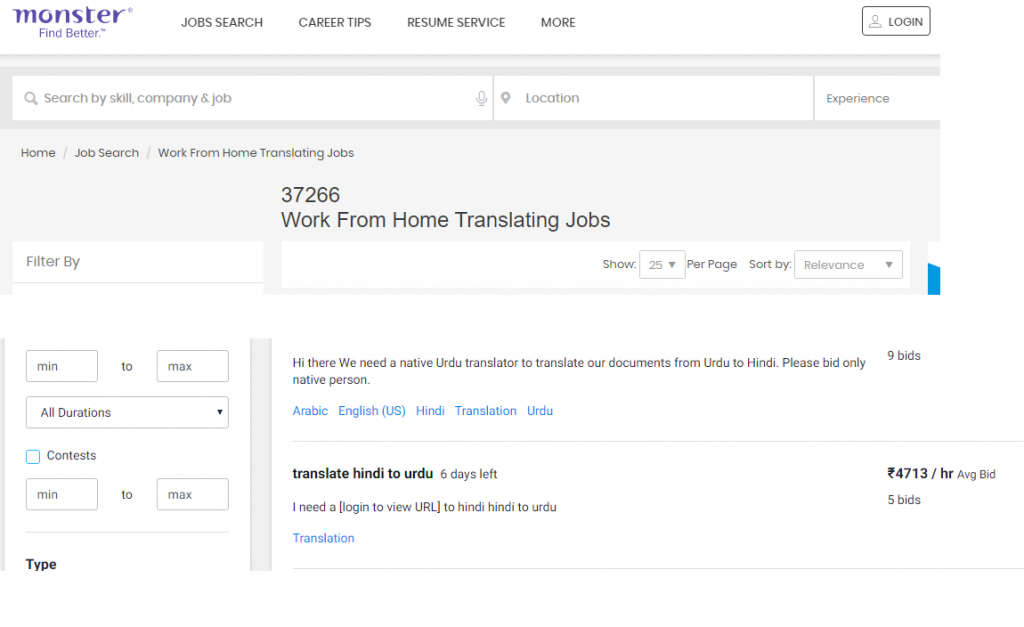 How much an average home based language translator earn?
On an average the salaries are around Rs20,000 to 50,000 per month which is quite good.
The best place to learn a foreign language is IGNOU .. Check out the programs.
---
#4 Open a theme based home tuition center
You would be wondering and thinking why I have it here. This is probably one of the oldest and well know work from home options. But what most people do is that they do not change with time.
Today in the times of huge competition, parents want their kids to not just learn and practice what they are doing in school, but also prepare for future. Below are some example which you can think of
Home tution center with JEE foundation training ( for kids from class XI to X)
Home tution center with NEET foundation (for kids from class XI to X)
Home tution center with advance JEE / NEET focus ( for kids of XI and XII)
Tution for kids from V to VIII with focus on Sainik School entrance coaching
Tution for kids from V to VIII with focus on Navodaya Vidyalaya entrance coaching.
Tution for Kids of XI and XII with focus on NDA
See there are many options and if you do well and create a rapport in your area, the chances of scaling this up is huge. So think over it.
How much a theme based home tutor earns?
The potential is high. You can charge hourly and good tutors charge anywhere from Rs 500/- per hour to Rs 1000/- per hour. You can create monthly packages. You can create and share plan with kids and their parents. Sky is limit here!
---
#5 Work from home based physiotherapy Jobs
Do you know how much a physiotherapist is in demand today? Let's look at what a physiotherapist do.
What does a physiotherapist do?
Physiotherapists help people affected by injury, illness or disability through movement and exercise, manual therapy, education and advice.
They maintain health for people of all ages, helping patients to manage pain and prevent disease.
The only drawback of this type of job is that not every one can do it and you need to be trained Physiotherapists . But if you understand the potential it offers, you know that sky is limit. You can do this from your home or if you want to scale you can setup a full fledged business.
So why not to do a course in this area and work towards making it a good home based work options for yourselves.
How much a home based Physiotherapists earn?
It depends upon your experience, but in general a Physiotherapists earns anywhere between Rs 500 to Rs 1000/- per hour at minimum and charges go northwards with experience and location. Check this out~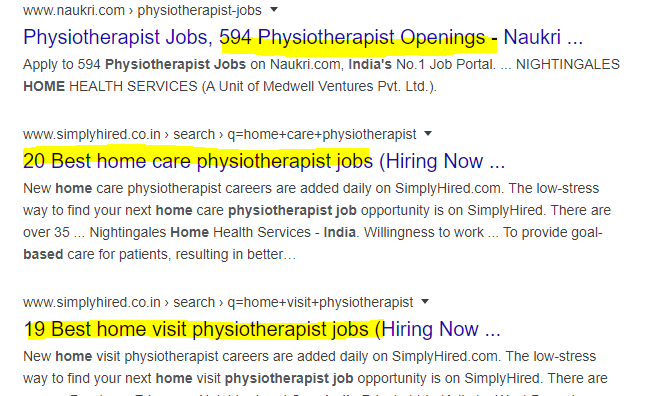 ---
#6 Become a Recruiter
Recruitment is one of the most important functions of an organization. This is one of the best and good paying work from home options today.
What does an HR recruiter do?
An HR recruiter, takes care of the complete recruitment cycle. It involves identifying a potential candidate. Screening resumes, contacting candidates, arranging for interview etc. Basically taking part in complete lifecycle of recruitment.
How much a HR recruiter earn?
It is a good paying job with average salary around Rs 20,000 per month. And as you increase your experience, the salaries are better and there is also a possibility to scale this into a full time business.
---
#7 Social Media Professionals – cool work from home job
These are jobs of new age where there is not much a need to be in office. A internet connection and laptop is good enough. With advent of social media, like facebook, twitter, pintrest etc which have lots and lots if users, it becomes lucrative platform for companies to advertise and promote their product and services.
What Social Media Professional do?
A typical job of Social Media Professionals are social media marketing. Most of the social media managers help companies manage their social media accounts. That is manage the accounts on Facebook, Twitter and other social media platforms. They help companies promote their products and services on social media. Help them analyze the comments on these platforms and give valuable insights to companies.
How much a social media professional earn?
This is actually a high paying job if you have a good skills in this area. Any positive impact done on this directly impacts companies profit and hence companies are willing to pay a good amount of money for this work. All top level companies pay around 1L / Year for good social media managers.
---
#8 Home Pop-Ups
Do you love cooking and are an expert in the local cuisine of the area you belong to. You can turn this into a home based earning method. Social Dining is a new concept but quite a hit in metros like Mumbai.
What is hope pop ups of Social dining?
There are many people in metros who are from different parts of country and they miss the cuisine from the location they belong to. What you can do is that you can create a event at home where you server a cuisine from the locality / region you belong to and sell this event on social media platforms. You can select and invite 8 to 10 people for dinner or lunch. So let's say you are from Himachal and you are an expert in Garhwali cuisine , you can cook and invite people who would like to taste this food. You can advertise this even via facebook , twitter or whatsapp groups.
What is the earning potential?
You can easily make 8000 to 10,000 rs per event. So if you run this once a week. It can easily fetch you 40 to 50K per month. What more as you become popular, you can turn this into a big catering business.
---
#9 Become a Virtual assistant
This is another home based job which can be very good if you have a good communication skills and have some good knowledge of tools like MS Word, Excel and Power Point.
What do Virtual Assistant do?
Virtual assistants provide administrative support to companies from a remote location. Their tasks include but not limited to
scheduling appointments
maintaining websites and blogs
providing customer service
preparing documents – write ups
Preparing excel file
Preparing power point presentations
May include doing some project management work or being a PMO assitant
etc
You should have good communication skills, know the basics of MS Office, Excel and PowerPoint. What more no special qualification is needed for this work.
How much a virtual assistant earn?
A typical virtual assistant can easily earn around Rs 40,000 per month at begining and if you are an experience one you can make upwards of Rs 1L/month.
---
#10 Become a content write
Content is the key in today's world. Lots of companies today want to increase their visibility on the online world by writing good content. If you are very good in writing, you can make this a wonderful home based career.
What content writers do?
Content writes are approached by various companies or individuals to write on a specific topic. For example you can be approached to writing on "Health Issues in winter". Now you can write well on this if you are expert in this area or if you are able to research well and articulate a article well. So you should have a passion on writing.
How much a content writers earn?
You can easily earn some where between Rs 1 to 3 per word to start with and once you have build your raport and have gain experience you can easily make around Rs 5 per word. So if you write a 500 word article, you can make Rs 2500 /- for it and the it all depends on how many articles you can write.
---
So friends these are some promising work from home options. Good luck and all the best to you.
You may also be interested in : tips while working from home
Final Comments
So friends I hope you liked our post "top 10 work from home jobs in india " . There is lot of opportunity today where you can work from home as well as take care of your personal obligations. If you have any comments or feedback you can write to me at skumar@indiacareeradvice.com or can post your comments in the comment box below.
---