Are you looking for a lucrative and interesting career option after your school. Friends let's look at "Career in Animation – Career option after 12th"
Why Career in Animation ?
Animation is a perfect choice for some one with an creative / artistic bend of mind and opens up a lot of opportunities in the field of film making, game development, advertising etc.
With various study paths available, Animation can be a good career choice!
Is Career in Animation for Every One?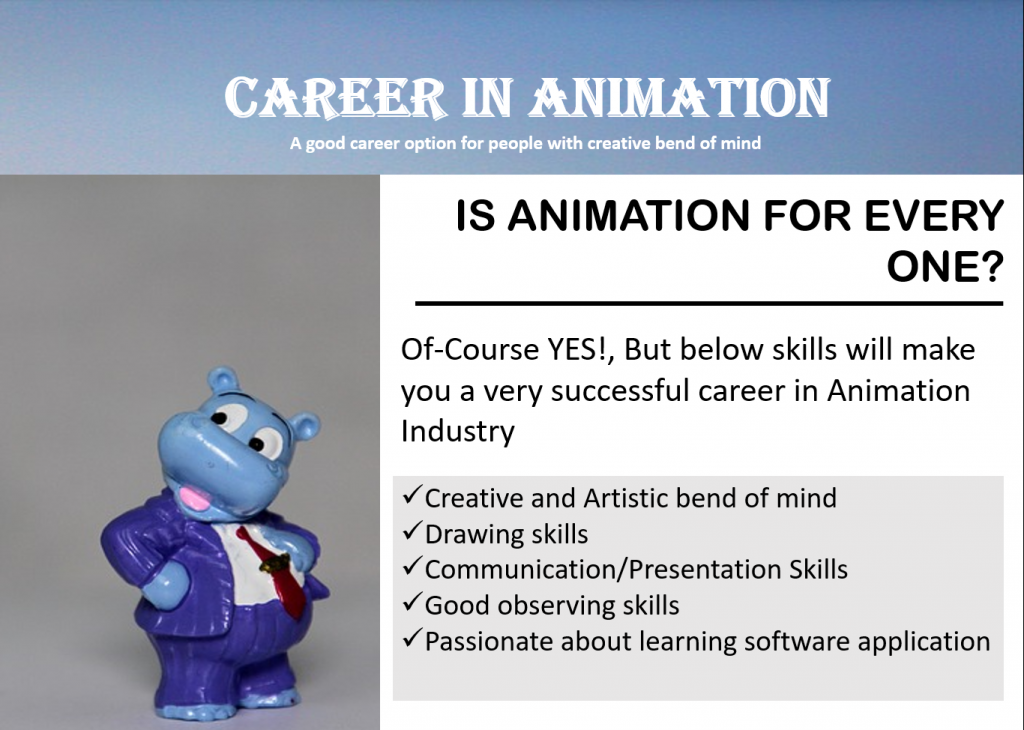 Any one can learn animation.
There is no major entry criteria, but of course if you have a creative inclination and good observer, you can do much better.
What do they teach in Animation?
There are many fields and sub fields in Animation. But below are some broad ones. See if these fuel your imagination
3D / 2D Animation
Visual Effects (VFX) / Special Effects
Multimedia & Design
Game Design
Storytelling etc
Courses in Animation
The below table provides you some information on what various courses are available and what is the eligibility criteria, duration, approx fees etc.
Courses
Minimum Eligibility
Duration
Fees (Approx.) INR
Who should take this course?
Diploma/ Certificate Courses
X Pass
3 months to 1 year
20,000 to 50,000
Want to test your interest in Animation. üWant to learn some related software
————————
Want to enhance some specific skills üWant to become entrepreneur
Graduate Level Courses
XII pass
3 years
200000 to 500000 (total)
Learn fundamentals of Animation
————————
Learn advance concepts of Animation
————————-
Fundamentals of Design üImprove non technical skills
————————–
Learn other non technical skills like story telling, scripting etc
PG Diploma Courses
Graduate / Equivalent
1 year
100000
Mostly what taught at graduate level of Animation but squeezed in one year
Post Graduate Level Courses (Masters)
Graduate / Equivalent
2 year
100000 to 200000 (total)
Specialize in any one area of Animation ex 3D design üWant to study further or interested in teaching and education
Some Known Institutes to study Animation
For doing graduate / PG level courses the best are some well known universities like below
Apart from that, below are some other known ones
Picasso Animation College
Westford Institute of Film Technology
P.A. Inamdar College of Visual Effects, Design & Art
Arena Animation
Accel Animation Academy
Zee Institute of Creative Arts (ZICA)
Maya Academy of Advanced Cinematics (MAAC)
Job opportunities in Animation
Job opportunities exists in below ( but not limited to ) industries.
Gaming Companies
News and Media companies
IT Companies
Film Industry
TV Channels
Production Houses
Advertising companies
Design firms
College and universities etc
Job roles in Animation
2D/3D Animator
Video Editor
Game Developer
Graphics designer
Web Designer
Layout Artist
Character Designer
Texturing Artist
Rigging Artist
Flash Animator
3D Graphic Artist
University Jobs
Salaries in Animation
Average starting salaries are a bit less – from 1.5L/annum to 3L/Annum
Grows well with experience. With 5 to 6 year of exp salaries can go up to 10L/Annum
Also depends on the companies who hire

So guys, over all a good career option with a good possibility to start something of your own after you have gained experience
You may also like – Difference between BSC (CS/IT), BCA and BTECH (CS/IT)
Hope I was able to clear your doubts on Career in Animation. Do write back to me at skumar@indiacareeradvice.com in case you have any questions or post your queries in comment box below. Cheers! Sanjeev