Once you have passed your class 12th the next step is to choose a course which will take you to the career path which you have thought of yourself. Well most of us still look at Engineering and Medicine as career. But there are many good career options beyond these two. Today I will talk about one such career option and that is Career in Geology or Career as Geologist. It also called as career in Earth Sciences.
Who is a Geologist?
A geologist is a person who does a scientific study of earth. By Scientific study we mean to study everything that constitutes the earth and can be solid, liquid or even gaseous matters. Also a geologist also may study other terrestrial planets.
So in a nutshell a geologist will study everything related to earth. It's mineral composition, earth quakes, volcanic eruptions, tectonic plates, water resources, ores and mining etc. So if you love nature and if you like to study earth, this is the field you should be in.
Sounds Interesting? lets look at what is needed to become a Geologist.
How to become a Geologist – Career option after 12th
The first step to become a geologist is to gain knowledge in this area, that is get trained in this area by going through a formal education in this field. There are graduate level courses, post graduate courses and even a doctorate degree.
If you have a doctorate degree, you become a earth scientist or also called as geo scientist or environmental scientist.
Minimum requirement to study Geology
If you have decided to get a degree in this field, you need to get at-least a graduate degree in this field.
You should have passed 12th with any stream (ie. 12 years of formal education)
Apply for a graduate degree in Geology ( minimum 3 year graduate degree or you can also opt for a BE/BTECH in mining)
Then if you want to apply for a masters degree, you may need to write GATE exam to get into a good college. Many universities also have their own entrance test
You can also opt for further study abroad, they have some good study options
And if you want to study further, then you can opt for PHD in geology
---
१२ वीं के बाद कृषि विज्ञान में कोर्स | Courses in Agriculture क्यों करें ?
कृषि हमारे जीवन का एक अभिन्न अंग है। भले हम इसमें खुद शामिल नहीं है पर हमारा जीवन इसी के आस पास घूमता है। हमारा देश एक कृषि प्रधान देश है और हमारे गांव कृषि के क्षेत्र में एक महत्वपूर्ण भूमिका निभाते हैं।
Read more..
---
What are the graduate degrees in Geology
Bachelor of Science (B.Sc) in Geology, Earth science, Environmental science
You can also think of BE/BTECH in Mining Engineering
What are post graduate degree in Geology
Master of Science (M.Sc) in Geology, Applied Geology
Master of Science (Hons.) in Geology
Master of Technology in Geology, Applied Geology
Then you can also do a doctorate degree, i.e a PHD in Geology or Earth Sciences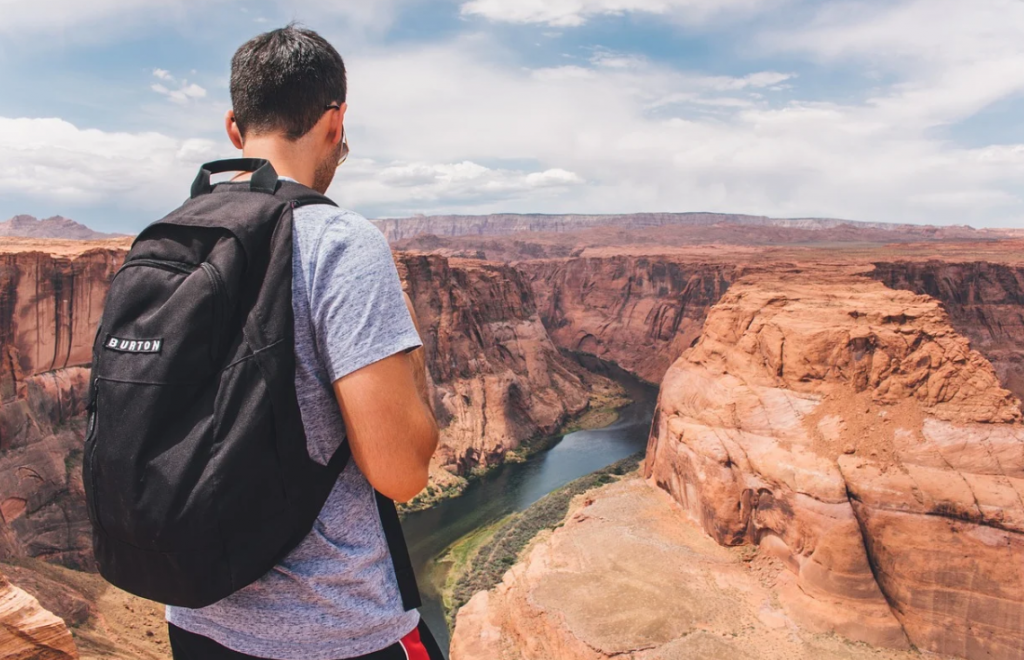 What are some interesting areas of specialization
Area of Specialization in Geology
Economic geology: Study of Ores, How was it created, It's value, geostatistics etc
Volcanology: This a detailed study of Volcanos
Planetary geology: The study of other celestial bodies, namely planets and their moons. This has sub areas like

lunar geology
selenology
martian geology, areology

Sedimentology: Detailed study of sedimentary rocks, strata, formations
Seismology: Detailed study of earthquakes.
Geophysics: To study physical methods such as gravity, seismicity, electricity, magnetic properties to study the earth.
Marine geology: The study of the seafloor
Petroleum geology: Specific branch to study Oil Exploration.
Engineering geology: Application of geological science to engineering
GeoChemistry: This is the branch of geology which deals with chemical composition of rocks etc
Hyderogeology: Deals with underground water.
Isotope Geology: Determines the process of rock formation
And there are many more..
Why career in geology
Career as a geologist can be interesting.
It is mostly a field work. So if you are not of the type who would like to sit at desk and do a job, then this is best.
You love nature – You will be mostly studying everything related to earth. If you love nature you are going to like this job a lot.
It has challenges – and if you are the one who likes challenges, this job fits it well. Let's say you are visiting a volcano .. how interesting is that!
Best Colleges to study Geology
There are many colleges which offer a degree in Geology. But if you are looking for a good post graduate degree, you should seriously think of below colleges
Indian Institute of Technology Kharagpur
Indian Institute of Technology Bombay
Indian Institute of Technology Roorkee
Indian Institute of Technology Kanpur
Jhadavpur University Kolkatta
University of Lucknow
MG Science Institute Ahemdabad
Kannur University, Kannur, Kerala
Pt Ravishankar Shukla University, Raipur
Aligarh Muslim University
Kerala University, Trivendram
Kakatiya University, Warangal
Banaras Hindu University
Delhi University
Career prospects for a Geologist
As I have mentioned before, geologist can be a very good career option. The need for a geologist is on rise. With more and more private companies coming into areas like mineral exploration, Oil and Gas Exploration, Water resource management, Environmental consulting etc, the need for a trained geologist is on rise
What are the job roles for a geologist
Today as a geologist you can be employed in government as well as private firms. Various job roles which are available are, but not limited to listed as below
Glacial or Quaternary Geologists
Volcanologists
Petroleum Geologists
Hydrogeologists
Environmental Geologists
Earth Science Teachers
Paleontologist
Structural Geologists
Engineering Geologists
Governments by large remain the largest employers for Geologist. The reason being such task were carried out by state and central governments before. But now with changing times, more and more private players are coming and hence job prospects in private sector is on rise.
Central government in India does recruitment through UPSC (Union public service comission)
Top Recruiters for Geologists
Geological Survey of India (GSI) is the most prestigious recruiter. But some of the key ones are listed below:
Geological Survey of India (GSI)
Indian Bureau of Mines (IBM)
Central Ground Water Board (CGWB)
Oil and Natural Gas Commission (ONGC)
Minerals and Metals Trading Corporation (MMTC)
Coal India
Mineral Exploration Ltd.
Hindustan Zinc Ltd
Indian Space Research Organization (ISRO)
Bharat Petroleum Corporation Limited (BPCL)
Colleges and Universities ( as professors)
Private firms as consultant
Now let us talk about salaries which Geologists earn. In government jobs, salaries depends upon the grade you are hired. But in private sector, a Geologist starts with somewhere around 2 Lakhs to 4 Lakhs per annum. And salary increases as per experience.
Then there are requirements in abroad as well.
For example look at the sample job postings on naukri.com. You will see that MSc/Mtech are most preferred.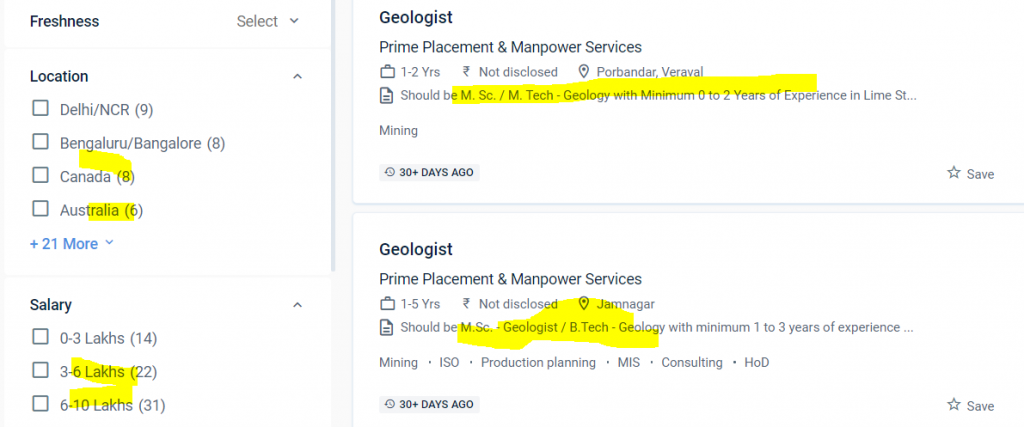 Some more reading
Look at this video and / or read more
Introduction to geology – Khan Academy
Explore geology more at geology.com
Closing comments
So friends, being a geologist can be very interesting and challenging job. The job profiles are exciting. If you love field work, it is one of the best jobs. But all need hard work as well. Did you see the sample job above? A masters degree is most preferred here. So plan accordingly and plan well. Plan for a master degree. Keep that much time frame in mind. And do write GATE. Do the masters from a reputed college. Hope you liked the information provided. Should you have any questions do not hesitate to write back to me at skumar@indiacareeradvice.com or post your comments in comment box below. Your friend Sanjeev!